Sridhar M. Durbhakula, M.D.
Specializing in hip and knee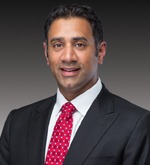 A graduate of the Feinberg School of Medicine at Northwestern University, Dr. Sridhar M. Durbhakula completed an orthopaedic surgery residency at the Albany Medical Center in New York. He then went on to complete advanced fellowship training in total joint replacement surgery at the world renowned Massachusetts General Hospital, in affiliation with Harvard University. Dr. Durbhakula specializes in the comprehensive treatment of hip and knee arthritis, including joint preservation techniques, minimally invasive partial and total joint replacement, and complex revision total joint replacement. Dr. Durbhakula has pioneered direct anterior hip replacement in the Montgomery County area with the use of navigation and the specialized Hana table. He has served as the Chief of Orthopaedic Surgery at Shady Grove Hospital and is a Clinical Instructor with the Johns Hopkins University School of Medicine.