Timothy Bhattacharyya, M.D.
Specializing in orthopaedic trauma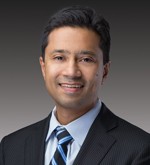 Board Certified in Orthopaedic Surgery and a graduate of Northwestern University and Washington University School of Medicine in St. Louis, Dr. Bhattacharyya completed an orthopaedic surgery residency at Boston University/ Boston Medical Center. He then went on to complete a fellowship in orthopaedic trauma at Harvard Medical School in Boston, MA. Currently, he is the Director of Orthopaedic Trauma Services at Suburban Hospital. His areas of expertise include: fracture care, pelvis and acetabulum injuries, management of complex and non union fractures, and joint replacements. He is Head of Clinical Orthopaedic Reseach at the National Institutes of Health. He is a member of the Orthopaedic Trauma Association and a Fellow of the American Academy of Orthopaedic Surgeons.