Navin S. Sethi, M.D.
Specializing in spine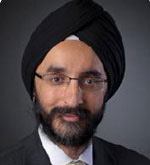 A graduate of the Johns Hopkins University School of Medicine, Dr. Navin S. Sethi completed an orthopaedic surgery residency at Washington University School of Medicine in St. Louis. He then went on to complete a fellowship in spine surgery at the Emory Spine Center in Atlanta. Dr. Sethi has lectured both nationally and internationally on topics related to the spine. He has written numerous articles and given multiple presentations to the attendees at the prestigious American Academy of Orthopaedic Surgeons, Northern American Spine Society, and Cervical Spine Research Society meetings, among others.