Mark A. Peterson, M.D.
Specializing in hip and knee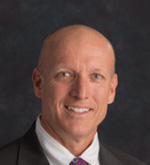 Mark A. Peterson, M.D., specializes in the diagnosis and treatment of mobility problems resulting from sports related injuries of the knee and shoulder.
Dr. Peterson has more than 25 years' experience in total joint replacement and he joined the Shady Grove Orthopaedics team in 1999. He has been certified in the latest technology, using computer navigated partial and total knee replacements. Dr. Peterson also has a special interest in cartilage restorative procedures, which are appropriate for patients with damaged cartilage. These patients may be candidates for less invasive procedures as an alternative to total joint arthroplasty.
Dr. Peterson is board-certified in orthopaedic surgery with additional board certification in sports medicine by the American Board of Orthopedic Surgery. He has served as Chief of Surgery at Shady Grove Hospital and as a member of the Hospital's Board of Trustees. He is active on the Shady Grove Hospital's Credentialing Committee as well.
After graduating cum laude from The University of Delaware, Dr. Peterson earned his medical degree from Georgetown University School of Medicine in Washington, D.C. He then completed his orthopedic residency at the Campbell Clinic, University of Tennessee Health Science Center, Memphis, TN, home to the nation's first orthopedic residency program and definitive textbook on the subject, Campbell's Operative Orthopedics.
Dr. Peterson enjoys staying active traveling, gardening, fitness training, and playing racquet sports, golf, and skiing.