J. Patrick Caulfield, M.D.
Specializing in hip and knee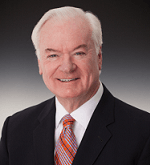 A native of Chevy Chase, Dr. Caulfield graduated from Georgetown Medical School and completed orthopaedic residency at Georgetown University in 1970. Then he spent two years as a Lieutenant Commander in the U.S. Navy, stationed at Pensacola Naval Hospital, Pensacola, Florida. Dr. Caulfield is a Diplomate of the American Board of Orthopaedic Surgery and a Fellow of the American Academy of Orthopaedic Surgeons. His special interest is in total joint replacement for which he has performed several thousand surgeries since 1970. Dr. Caulfield has been featured in every issue of Washingtonian Magazine's "Top Doctors" since it's inception in 1991.