Edward J. Bieber, M.D.
Specializing in shoulder replacement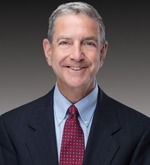 Board Certified in Orthopaedic Surgery and also in Hand Surgery, Dr. Bieber is interested in all areas of orthopaedics, with special interest in reconstruction, trauma, arthroscopy, and sports medicine of the upper extremity, including the hand, wrist, elbow, and shoulder. A graduate of Yale University and Georgetown Medical School, his orthopaedic training was at Johns Hopkins University with a fellowship in hand and upper extremity at the Mayo Clinic. He is a consultant for hand and upper extremity surgery at the National Institutes of Health. Dr. Bieber has served as Chairman of the Department of Surgery and Chairman of the Medical Staff at Suburban Hospital and as President of the Washington Orthopaedic Society.