Brett J. Hampton, M.D.
Specializing in hip and knee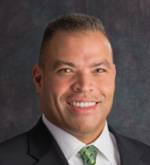 Brett J. Hampton, M.D., is an orthopaedic surgeon who specializes in the diagnosis and treatment of hip and knee injuries as well as joint replacement and revision. He joined Shady Grove Orthopaedics in 2009.
After completing his bachelor degree at Rutgers College in New Brunswick, New Jersey, Dr. Hampton earned his medical degree from The George Washington University School of Medicine in Washington, D.C., where he was the Valedictorian.
He was welcomed as a Junior year member into the Alpha Omega Alpha Medical Honor Society. Dr. Hampton has been repeatedly recognized as a Washingtonian Top Doctor. He completed an internship in general surgery at the Brooke Army Medical Center in San Antonio, Texas, and an orthopaedic surgery residency at the University of Virginia Health Sciences Center in Charlottesville, Virginia. Following his residency, Dr. Hampton received advanced fellowship training in arthritis and reconstructive surgery at the Massachusetts General Hospital in Boston, Massachusetts.
Dr. Hampton is board-certified by the American Board of Orthopaedic Surgery. He is also a fellow of the American Academy of Hip and Knee Surgeons, in addition to the American Association of Orthopedic Surgeons. Dr. Hampton is the Director of the Total Joint Center at Shady Grove Medical Center. Under his leadership, the Shady Grove Medical Center has received The Joint Commission's Gold Seal of Approval every year since 2011.
When he is not seeing patients, Dr. Hampton enjoys traveling and visiting historical sites.
Dr. Peterson enjoys staying active traveling, gardening, fitness training, and playing racquet sports, golf, and skiing.